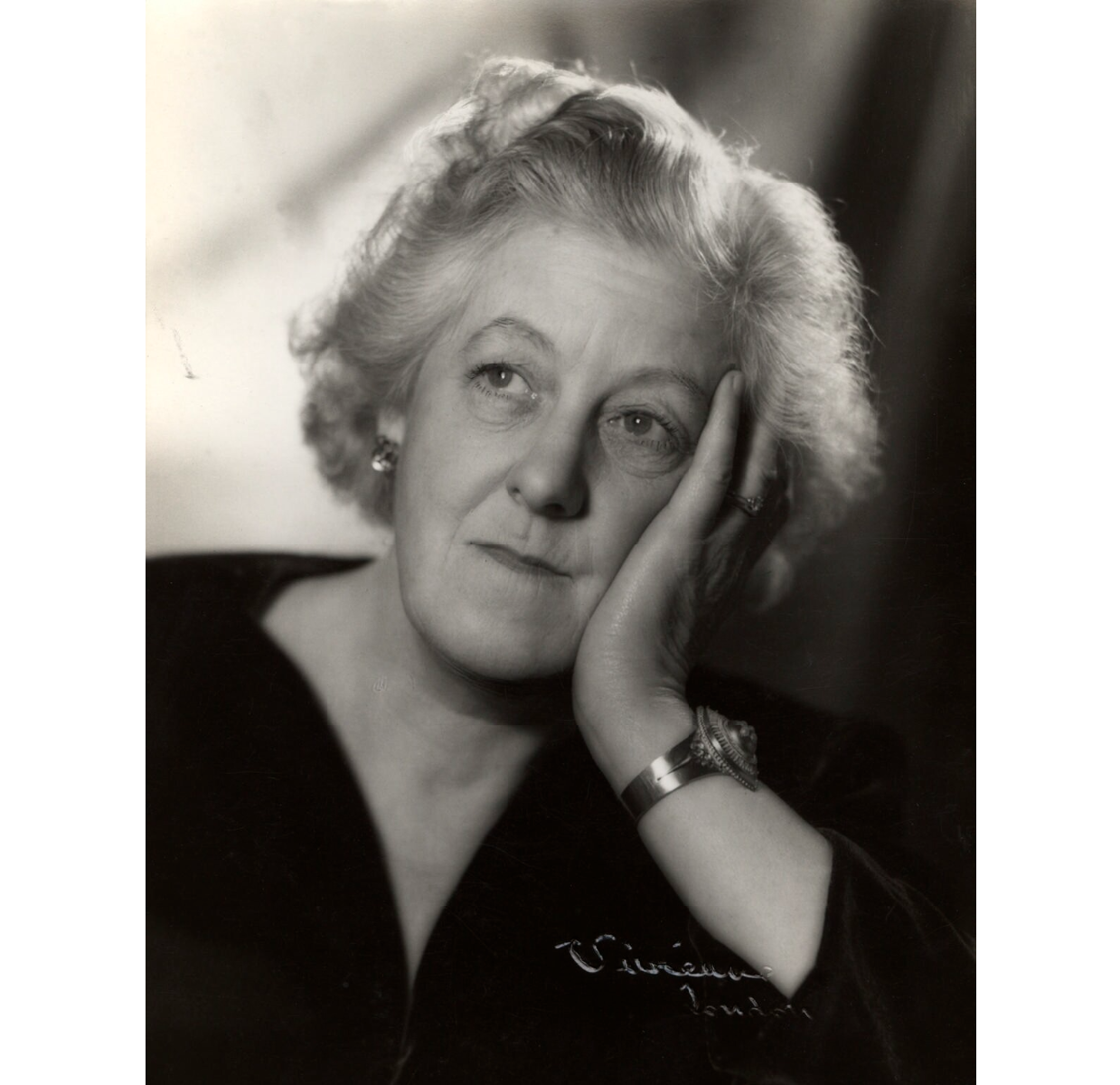 Born: 11th May 1892
Died: 22nd May 1972 (aged 80)
As you will know my main modus operandi for these things is to look at an actors top five worldwide box office films and then talk about my favourite film of theirs. Unfortunately, as I have found out, that's not always possible, I don't know if the actor isn't an international success or what but in such cases I will try to find a film from each decade of their acting career.
this article contains spoilers
When you look at her background, Margaret Taylor Rutherford was destined to be an actress. In the early days of his marriage to her mother, her father spent time in a lunatic asylum and after his release bludgeoned his own father to death before attempting to cut his own throat. He spent several years in Broadmoor Criminal Lunatic Asylum before being reunited with his wife. He moved the family to India to 'escape' his past but, at the age of three, Margaret returned to England alone after her mother committed suicide by hanging herself from a tree whilst pregnant.
Margaret became an accomplished pianist and before her acting career she was a piano teacher. She also taught elocution whilst taking acting lessons and when her aunt, who had raised her since her return to England, died she left her enough money to become a trainee actor with the Old Vic Company. She was 33 at the time and struggled to get many acting roles, but she made her West End debut eight years later and six years after that she starred as Miss Prism alongside John Gielguid and Edith Evans in 'The Importance of Being Ernest' (she reprised the role on screen in 1952 in Anthony Asquith's film also alongside Edith Evans). Miss Rutherford reprised several roles like this from stage to screen.
Beauty and the Barge (1937)
Those who have seen the works of Margaret Rutherford while probably guess that she is not playing the Beauty in this film (nor is she the barge for those that want to be funny!). This is a short film with little padding about a girl who doesn't want to marry the man her father wants her to so flees, via barge, to London. Margaret plays the housekeeper who is infatuated with the philandering barge Captain. She tries to call him out and, with the help of a Naval Lieutenant, who is pretending to be a basic seamen so he can work on the barge to woo the beauty (convoluted I know), stows away on the barge to catch him making moves on the young lady.
This was only her third film and, although a slightly more serious role, you can see her comedy potential – "hair… I need hair" she says as she pops up from the hold like a jack-in-the-box before being pushed back down.
Spring Meeting (1941)
A sweet little film about love and family. Margaret Rutherford plays Aunt Bijou who is very much the spinster and lives with her brother Richard and his two daughters in his manor house. Bijou is against everything that happens in the house unless, "my darling", it comes to gambling, which her brother is against. She laments the idea of marriage "No lady thinks of such a nasty thing until it happens. The ladies of our family don't marry, I didn't marry. And Aunt Agnes and Aunt Kathleen never thought of such a thing and there's our dear little Joan"
Bijou is an eccentric character but played with more subtlety than she could be in any other ones hands other than Rutherford's, it was nice to see some contrast from her other roles.
Miss Robin Hood (1952)
'The Teenager' has a new owner and wants to stop the Miss Robin Hood stories. Wrigley, the writer, storms out then meets Miss Honey, who lives for the stories of Miss Robin Hood reading to the orphans she looks after every week. She leads Wrigley on his own Miss Robin Hood adventure of crime and in the end she and the children save him and Miss Robin Hood.
This is one where Margaret Rutherford is at her best playing an eccentric woman with a twinkle in her eye and, almost like the children she surrounds herself with, she is cheeky, cunning and full of fun
The V.I.P.s (1963)
A group of five V.I.P.s are waiting to fly from Heathrow but their plane is fog bound. We have Frances Andros, beautiful wife of a wealthy tycoon; Les Mangrum, business owner; Max Buda, famous director, and Gloria Gritti, his starlet; then we have the Duchess of Brighton. You can probably guess which one Margaret Rutherford plays, can't you? That's right the young starlet – no obviously not she plays the Duchess on her first ever flight who is already on a couple of 'pep up pills' for her nerves. She is heading to Miami to get a job as Assistant Social Manageress for the Royal Atlantic Hotel at Miami Beach. To be honest her role is unnecessary to the main plot, which is Frances' story. In fact there is little point to any of the other characters apart from them all being in the same V.I.P. lounge at the start – there is little interaction between them. It's like they just cross the path of Frances and her life as she walks through the film.
Slightly less comedic than other roles, Ms Rutherford plays this straight, it's the script that lends itself to the comedy and she does wonders with it. To star alongside the likes of Orson Welles, Elizabeth Taylor and Richard Burton and to win the only Academy Award it was nominated for (Best Actress in a Supporting Role) is saying something especially when she is probably on screen for the least amount of time.
Before I talk about my favourite Dame Rutherford film I have to admit that I love nearly everything she has done; her Madam Arcati, in Blithe Spirit, is superb I can't think of the rhyme of Tommy Tucker without hearing her voice (her elocution plays a massive role in this) and her Miss Prism is demure yet bumbling especially when she is in front of Lady Bracknell, you just have to have sympathy for her.
But now I have to ask you one question – what does Margaret Rutherford, Joan Hickson, Geraldine McEwan and Julia McKenzie have in common? They have all played Agatha Christie's Miss Marple; Joan Hickson was the actress that Agatha herself would have liked to portray Jane Marple but it was Margaret Rutherford who brought her to life first on screen and, for me, the best portrayal. Not quite as Miss Christie envisaged but she did dedicate the book 'The Mirror Crack'd from Side to Side' to Margaret – so her portrayal couldn't have been that bad. Personally I think there is nothing bad at all about her portrayal – she is wonderfully eccentric and forthright, virtually everyone she meets is put on edge by her behaviour which normally leads her to the final scene's unveiling of the murderer. What makes her portrayal so wonderful is the relationship she has with Mr Stringer (played by her real life husband Stringer Davis) her best friend. He is a timid man who lives in awe of her boldness and, although he seems reluctant to be involved in her antics, he always does as she tells him. Margaret Rutherford made four Miss Marple films between 1961 and 1964.
Dame Margaret Rutherford was awarded an OBE in 1961 and a Dame Commander (DBE) six years later at the age of 75. She married Stringer Davis, seven years her junior, in 1945. He nursed her through many illnesses including some stays in mental hospitals and electric shock treatment as well as Alzheimer's disease. Dame Margaret acted on stage and screen for as long as her illness allowed – an acting career that spanned 42 years, during which time she won (apart from her Academy Award) a Golden Globe for Best Supporting Actress, a Golden Laurel for top Female Supporting Performance and a National Review Award for Best Supporting Actress all for her portrayal of The Duchess of Brighton in the 1963 film The V.I.P.s – these were the only awards won by the film (it also starred a certain young English actress called Maggie Smith who received a nomination for the Golden Globe's Most Promising Newcomer)