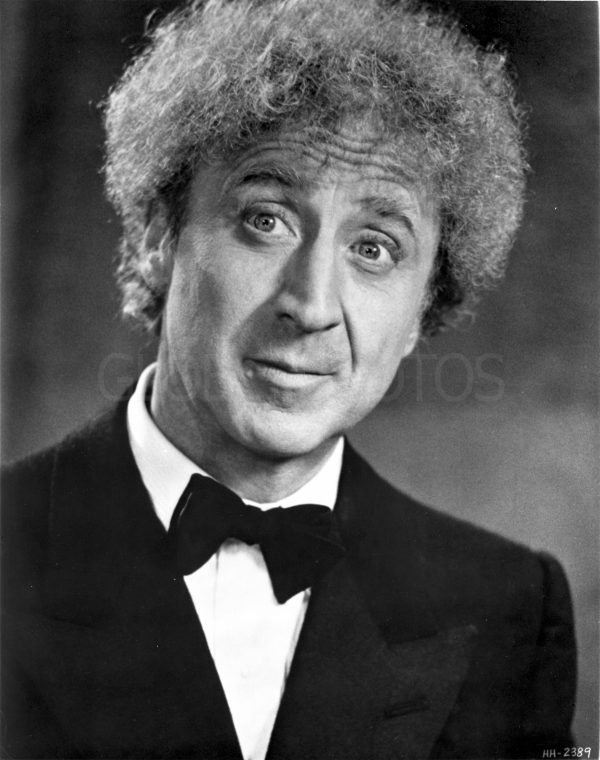 Born: 11th June 1933
Died: 29th August 2016 (83 years)
Gene Wilder (born Jerome Silberman) studied acting from the age of 13 and his first stage appearance was at the age of 15 in Romeo and Juliet. After graduating from the University of Iowa he was accepted at the Bristol Old Vic, where he learnt to fence, before returning to America to study the Stanislavski System*.
His first main role, and his first collaboration with Mel Brooks, was at the age of 34 in The Producers. If you look at Wilder's top five worldwide box office you will see that it has two Mel Brooks collaborations and three with Richard Pryor (I say top five but as his fifth is his film debut, a small scene in Bonnie and Clyde, I have discounted it and moved onto his sixth).
Blazing Saddles is his highest grossing film but not a film I enjoy. Don't get me wrong Gene is great as the heavy-drinking Sheriff of Rock Ridge and when I first saw it I thought it was a very funny film until the final scene. Now if I watch it I can't enjoy it as much as I know the scene is coming. Those of you that have seen it probably know what I'm talking about but for those that don't, I won't spoil it – suffice it to say it's the same reason I don't enjoy Gremlins 2: The New Batch or Deadpool.
Stir Crazy is a film about two innocent jailbirds (yes they are actually innocent and I can say this without spoiling the film for anyone) and a Prison Rodeo. It was the second film he made with Richard Pryor. His third film is his second film directed by Mel Brooks, Young Frankenstein, although not my favourite Gene Wilder film but it's up there. As the name suggests it is loosely based on the Mary Shelley story. Wilder plays Frederick Fronkensteen, a young doctor trying to distance himself from his family history; this film has the best scene ever and I defy anyone to hear 'Puttin' on the Ritz' ever again without thinking of this scene. His fourth and sixth films see him share the screen with Richard Pryor again – in Silver Streak, their very first collaboration, this is a very good film and, having never seen it before, was expecting something a lot different and See No Evil, Hear No Evil, where the two of them play innocent men who get arrested(what is it with these two!) only this time one is blind and the other deaf – hence the title! Wilder plays Dave, a deaf kiosk owner, and although I have not forensically analysed the film there is no sign of Wilder reacting to any sounds or the use of ear plugs which for me makes him a very good character actor. All the Wilder/Pryor films are more serious than I thought they would be considering their stars are comic actors. There is always an underlying darker story that the humour doesn't distract from and it is never outrageously over the top yet still funny.
My favourite film of Wilder's has to be Willy Wonka and the Chocolate Factory. It was released just before I was born so I didn't see it in the cinema but I remember seeing it on TV when I was older. It was colourful, full of music and well just plain brilliant. Yes, maybe, looking back he is a little creepy with his interactions with the children but it was the 70s and have you seen the 2005 remake? That's creepier! It's good to see that even though Gene's singing voice isn't perfect they didn't dub it like other films have with other actors, it is soft and it suits the character especially when he sings "Pure Imagination" with its lullabyesque tune. It also comes in handy for his attitude towards the children breaking rules – when he says things like "Stop. Don't" to Violet Beauregarde when she doesn't listen to him about the gum it sounds like he's not bothered but I see it more that he is disappointed in them breaking the rules considering what they have the chance of winning. But it is the way that he changes at the end from disappointed with Charlie to angry and then complete delight when Charlie shows that he has no intention of giving the secrets of the chocolate factory away.
Gene Wilder was diagnosed with Alzheimer's' Disease three years before his death from complications attributed to his Alzheimer's.
*the Stanislavski System teaches an actor how to become a believable character. It concentrates on five basic elements – relaxation, concentration of attention, imagination, communication, and emotion memory.